Lucas Love Healthcare agency nurse Sanda Mitroi is one of many #HealthHeroes working on the front-line during the coronavirus pandemic.
We recently phoned her to ask how nursing has changed since the lockdown began, and it's fair to say our health professionals are dealing incredibly well with a rather challenging situation.
We began by asking how her day-to-day nursing experience has changed over the last month.
"Obviously it's a difficult time for everybody."
"We've had patients asking what changes have been made with the requirements around coronavirus and my response is that right from the beginning of our training as nurses, we are taught how to ensure that everything we use is clean so that we can protect our patients from any virus, not just something as significant as the coronavirus.
So, apart from the rules around cleanliness, I think the big test is the mental challenge, because everybody is counting on nurses."
"We've reached the stage where we don't work for money. We are working for the safety and health of everybody. We cannot change the situation, but we've been provoked to change ourselves. There's no point for us as nurses to complain and look at the worst-case scenario. In the situation, the only thing we can focus on is the present moment.
We can't focus on the impact this virus is having and how many people it has affected. The only time we are actually able to manage is today. That's the feedback that we've had from our seniors; do the best we can today and then let's see what happens tomorrow."
"Everybody is learning so much because the situation is so unusual. We are dealing with something we haven't had to deal with before and so we're having to learn and continually get better as we go. People need support right now. People at home people in self isolation. People in the system who are working, such as nurses and care assistants. We all need support.
"We need to focus on supporting each other and looking after people; empowering people to focus on enhancing our power and energy and vitality; keep building our mental strength and it will help us to feel more powerful when dealing with this challenging situation.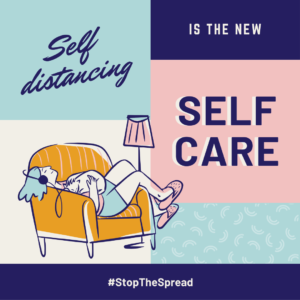 The other key point I want to make is to look after ourselves from a physical and mental standpoint. It's true that when you're working a lot you are more stressed, but it doesn't mean we can't make time for ourselves."
"Meditating before starting your shift is a great way to prepare your mind and it will also positively impact the state of your physical body. This can make a huge difference to how you experience your day and the impact you have on other peoples' lives."
How has your experience changed over the last couple of weeks in particular?
"I work in both a doctors practice and in hospitals and I've found the last week quite different to the weeks before that. Patients initially were scared and afraid and had a lot of questions. They wanted to know how to deal with it.
"However, now when people come to me for different medical reasons, they seem to be more settled. They understand it is now a fact of life that we are dealing with and they now need to stick to the rules to protect themselves. They're just trying to get on with this new way of life knowing that it's temporary.
So, now when I'm involved in a simple procedure like taking blood for example, people are just back to talking about their lives rather than focusing on the virus. I don't know if it's a human reaction or that people just want to keep going."
"There has certainly been a shift in the last week where people seem to understand what we are facing and how we need to deal with it. For us, we are still dealing with everyday health complications such as diabetes or the flu or whatever other illness and, as medical staff, we're used to treating sick people, so we just need to protect ourselves a little bit more than usual."
Do you have sufficient protection equipment?
In the places that I have worked there has certainly been enough safety equipment for our staff."
Have patient numbers changed?
"It has been surprising. One of the hospitals I work at is operating at 60-70% capacity. These are just people sick from any other infection or ailment or accident and we've been wondering where everybody else is. Where are all those people who were sick before and we needed to occupy a hospital bed?
We are used to having to quickly turn beds around as soon as they become available for the next patient. However, recently that's been quite different. We now have time to actually look after our patients. Clearly people are scared to come to hospital because of the threat of coronavirus and it really makes you wonder if they need a hospital bed in the first place."
Is it because people aren't as active now?
"If you take a look at the statistics, domestic injuries are normally in the top three most likely causes for hospital attendance. It does make you wonder. The risk is still there, but we're just not seeing the volume of patients that we are used to seeing."
Is this the calm before the storm?
"Well nobody is saying that, but it does feel like it. Hospitals have been getting ready to receive COVID-19 patients and they are ready to go. There have been a lot of physical changes in infrastructure. Everything is clean and tidy and there's a calmness that we are ready to go.
"Senior management are there to update us on the new rules as they come to hand because sometimes changes can happen very quickly in a matter of a few hours, let alone from one day to the next.
"Management have been really open and communicating all of these changes with us and, as staff, we are very grateful for this."
What impact will it have on you and your daily role?"
"The main thing in this entire situation whether you are dealing with peoples' everyday health needs or COVID19 patients is that you are being safe and you're wearing protective equipment, because if you aren't and you get infected and you carry on then you can have a huge impact on people around you."
On behalf of everyone here at Lucas Love Healthcare, we'd like to thank all of those workers on the front-line in so many different lines of work that are out there fighting to keep us safe and healthy. You are doing an incredible service for your country and beyond and we will be forever grateful to each and every one of you!